The NAD HTRM 2 remote is ready to operate M33 right out of the box.
To configure the Sleep Timer on M33, perform the following steps:
In the HTRM 2 remote, press the DEVICE SELECTOR – AMP button.
Press the RTN – SLEEP to toggle the sleep timer. (maximum sleep time configurable – 90 minutes)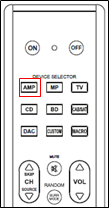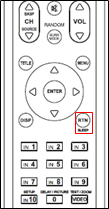 For more information on HTRM 2 remote functions, refer to the M33 Manual.
Note
Update the M33 to the latest firmware (BluOS 3.14.2) to access the above feature.