The NAD HTRM 2 remote is ready to operate M33 right out of the box.
To toggle the M33's Dirac audio output, perform the following steps:
In the HTRM 2 remote, press the DEVICE SELECTOR – AMP button.
Press the EQ – RES to toggle through the saved Dirac profiles.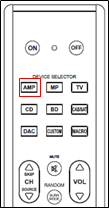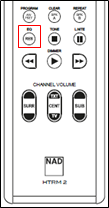 For more information on HTRM 2 remote functions, refer to the M33 Manual.
If you need help setting up Dirac, refer to our Help Center article.
Note
Update the M33 to the latest firmware (BluOS 3.14.2) to access the above feature.