Bi-amping two amplifiers to your speakers can greatly improve the sound quality of your audio system. With this setup you will have one amplifier manage the woofer of your sound system and the other amplifier manage the mid and tweeter range. By doing this, each amplifier will only need to carry half the total output and allow for greater amplification and audio fidelity to your speakers. To accomplish this you will need two amplifiers, and a set of speakers with four available binding posts on each.
First ensure both your amplifiers are both powered off and remove any bridges connected to the binding posts of your speakers, then follow the steps provided below to Bi-amp your speakers.
Connect an RCA cable from the Pre-Out of your first amplifier to the inputs of your second amplifier.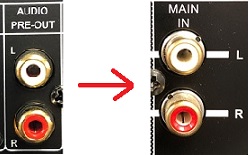 Connect the first amplifier to the top binding posts of your left and right speaker.
Connect the second amplifier to the bottom binding posts of your left and right speaker.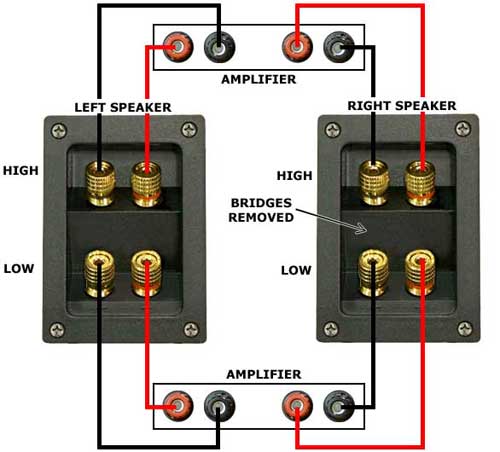 Power on your amplifiers and verify that both amplifiers are on the correct input (your audio source for the primary amplifier and the analog input for the secondary amplifier).
Adjust the volume levels on both amplifiers to be identical or to your listening preference.
You have now successfully Bi-amped your amplifiers to your audio system. Take some time to adjust your audio levels and tone controls to match your listening preference and enjoy the improved fidelity of your audio system.